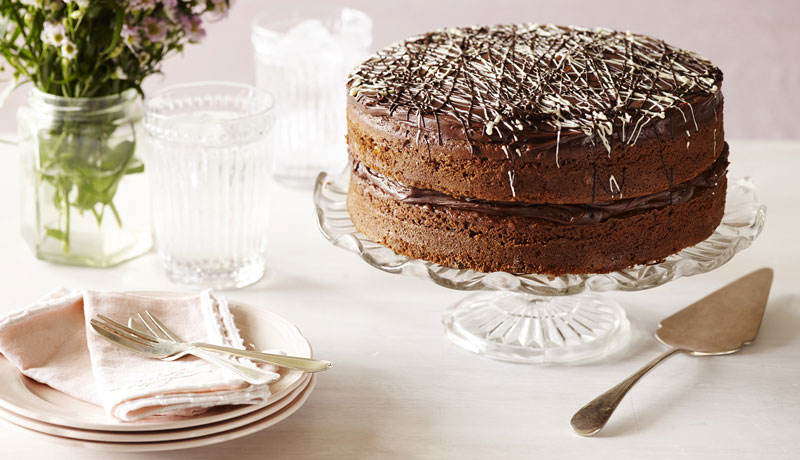 Try this easy recipe for a decadent chocolate chip cake. With white and dark chocolate chips and rich chocolate icing, it's perfect for afternoon tea.
---
All You Need Is ...
Cake
1 box Betty Crocker™ Tempting Chocolate Cake Mix

125 ml vegetable oil

230 ml water

3 medium free range eggs

80 g white chocolate chips

80 g dark chocolate chips
Topping and Filling:
1 tub Betty Crocker™ Tempting Chocolate Icing

40 g white chocolate melted

40 g dark chocolate melted
Betty's Easy Steps
Preheat the oven to 180˚C (160˚C for fan assisted ovens)/ Gas Mark 4.
Mix the eggs, oil, water and cake mix gently together and whisk (by hand or electric mixer) for 2-3 minutes until smooth and creamy. Fold through the white and dark chocolate chips.
Pour the cake mixture evenly into the two greased cake tins.
Bake in the centre of the oven for 25-30 minutes, or until a skewer inserted into the centre of the cake comes out clean. Leave the cakes in the tins for 2-3 minutes then turn out onto a wire rack and leave to cool.
Spread 1/2 of the chocolate icing over one of the cakes. Place the second cake on top and spread the remaining icing over the top, smoothing it level with the palette knife.
Melt the white and dark chocolate in a microwave checking and stirring every 20 seconds until completely melted. Spoon the white and dark melted chocolate into two separate paper piping bags. Snip off the ends and drizzle the melted chocolates over the top of the cake in a random zig-zag pattern. Leave to set.TIP If you don't have paper piping bags just drizzle the melted chocolate over the cake using a teaspoon.
Made with these Betty Crocker ™ products