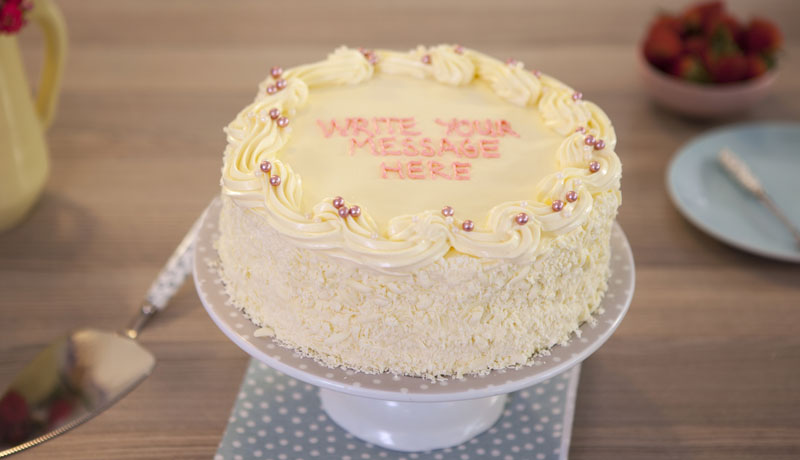 Vanilla Birthday Cake
Total Time: 1 Hour 05 Minutes
This elegant vanilla sponge birthday cake recipe is perfect for a celebration, with delicious Betty Crocker™ Vanilla Buttercream Style Icing swirls to decorate.
---
All You Need Is ...
Cake
1 Betty Crocker™ Velvety Vanilla Cake Mix

90 ml vegetable oil (4tbsp)

3 medium free range eggs

180 ml water
Topping
2 tubs Betty Crocker™ Vanilla Buttercream Style Icing

Jam

100 g white chocolate

Coloured sugar balls

Pink food colouring
Utensils
2x 8" well greased cake tins

Electric mixer/hand whisk

2 piping bags

Star and writing nozzle
Betty's Easy Steps
Preheat your oven to 180°C (160°C for fan assisted ovens) / Gas Mark 4. Grease the tins or line with greaseproof paper.
Mix the eggs, oil, water and Velvety Vanilla Cake mix gently together, and whisk (by hand or electric mixer) for 2-3 minutes until smooth and creamy.
Pour the cake mixture evenly into your two greased cake tins.
Bake in the centre of the oven for 22- 27 minutes or until a rounded knife inserted into the centre of the cake comes out clean. Cool for 10 minutes in the tin then cool on a cooling rack.
Ice the top of one cake with Vanilla Icing and spread the other with jam, then sandwich together.
Note: place some sheets of paper to your cake stand to keep it mess free.
Spread a thin layer of icing over the top and sides of your cake and place in the fridge for 30 minutes. This will help seal in the crumbs for perfectly smooth icing. Then ice the cake again for a perfect crumb-free finish.
Grate the white chocolate using a cheese grater to create tiny chocolate curls. Then gently press the chocolate curls onto the sides of the cake.
Cut the end of a disposable piping bag and insert a star piping nozzle. Fill the bag with Vanilla Icing.
Pipe an 's' shape with the piping bag. Start the next 's' shape in the same place as you finished the previous 's'. Continue doing this all the way around the top edge of the cake.
Fix the Writing Tip nozzle to another piping bag and colour some vanilla icing with pink food paste. Once well combined fill the piping bag with the pink icing.
Gently score your message onto the cake with a cocktail stick then pipe your message with the pink icing.
Add the coloured sugar balls and other decorations of your choice to add that extra special finishing touch.
Don't forget to remove the paper from your cake stand!
How to Make This Recipe
This video feature is not available with your current cookie settings.
You can update your privacy settings to enable this content. Please enable all cookies to use this feature.
Made with these Betty Crocker ™ products