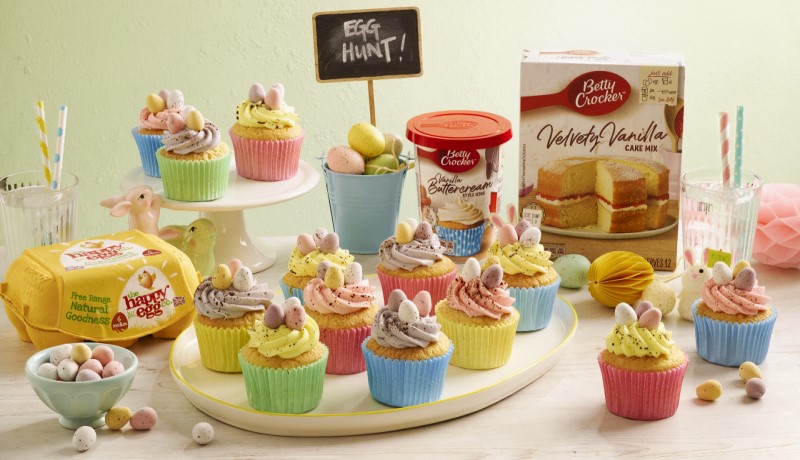 Speckled Mini Egg Cupcakes
Prep Time: 1 Hour 25 Minutes
Total Time: 1 Hour 45 Minutes
These cute cupcakes are so simple to make – kids will love baking these delicate cupcakes as well as swirling the buttercream and splattering the speckles!
---
All You Need Is ...
1 box Betty Crocker™ Velvety Vanilla Cake Mix

180ml water or milk

90ml vegetable oil

3 medium Happy Eggs

2 tubs Betty Crocker™ Vanilla Buttercream Style Icing

Pink, lilac and yellow gel food colouring

2 teaspoons cocoa powder

240g mini chocolate egg
Betty's Easy Steps
Preheat the oven to 180°C (160°C for fan assisted ovens)/Gas Mark 4. Line 2 x 12 hole muffin tins with cupcake cases. In a large mixing bowl, beat the cake mix, water or milk, oil and the Happy Eggs with an electric hand whisk for 2-3 minutes until smooth and creamy. Divide the mixture equally between the cupcake cases.
Bake both muffin tins at the same time for 18-22 minutes, until an inserted toothpick comes out clean. Cool in the tins for 5 minutes, then remove and transfer to cooling racks to cool completely.
Meanwhile, prepare the topping. Divide the icing between 3 bowls – you should have around 260g of icing in each bowl. Use the food colouring to tint 1 bowl of icing pastel pink, 1 lilac and 1 yellow.
Fill a piping bag fitted with a large star nozzle with one of the coloured icings (see Tips). Pipe small swirls on top of 8 of the cupcakes. Wash the piping bag and nozzle and repeat twice, using the remaining coloured icing to decorate the remaining cupcakes in the same way.
Mix the cocoa powder with enough water so that it is the consistency of double cream. Working on one cupcake at a time, dip a pastry brush into the cocoa mixture, then brush your fingers over the bristles to flick the cocoa mixture over the icing. Turn the cake and repeat as necessary (see Tips). Repeat with the remaining cupcakes. Top each cupcake with 3 mini eggs, then serve.
Betty's Tips
Disposable piping bags work well for this, and if you do not have a large star nozzle, simply snip a 1.5cm hole in the tip of a disposable piping bag. Pipe a small swirl as per the recipe –the icing will have a more rounded shape but will be just as pretty!
It's a good idea to cover your work surface with a few kitchen towels when flecking the cocoa mixture over the cakes!
Made with these Betty Crocker ™ products