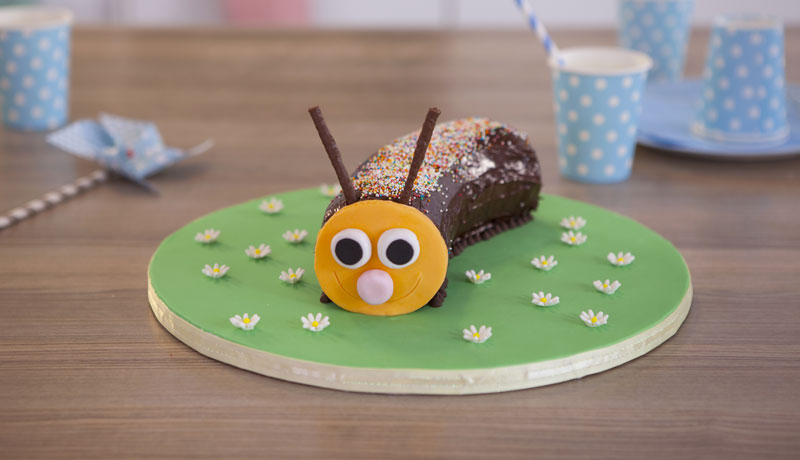 Chocolate Caterpillar Cake
This chocolate caterpillar cake recipe is perfect for any birthday celebration, with delicious Betty Crocker™ Chocolate Fudge Icing and sprinkles to decorate.
---
All You Need Is ...
Cake
1 box Betty Crocker™ Chocolate Fudge Brownie Mix

40 ml vegetable oil (2 tablespoon)

75 ml water (5 tablespoon)

1 medium free range egg
Topping
1 tub Betty Crocker™ Chocolate Fudge Icing

Chocolate matchsticks

chocolate chips

Coloured ready to roll icing

Sprinkles

Flowers (optional)
Betty's Easy Steps
Preheat your oven to 180°C (160°C for fan assisted ovens) / Gas Mark 4. Grease the tin.
Mix the egg, oil, water and brownie mix together until well blended (mixture may be lumpy).
Spread the mixture evenly into the lightly-greased rectangular tin.
Bake in the centre of the oven for 20- 25 minutes or until a rounded knife, inserted 5cm (2") from the edge of the tin comes out almost clean. After just a couple of minutes, cut circles from the brownie using the top of a glass. Lift the circles out before they stick to the baking tray!
Spread a thin, even layer of icing over the top of one cake and gently press the other cake on top. Cut off a section from each side and a point at the bottom of the cake.
Decorate the caterpillar's back with colourful sprinkles.
Roll out the orange sugar ready to roll icing to a 4cm width and cut out the face with a glass.
Roll out the white icing a 2cm width, the pink icing to 1cm width and the black icing to 5mm width. Add the 2 balls of white icing to the face and attach the 2 black circles to create the eyes. Then add the pink circle to create the nose. Glue together with some water. Then use a knife to create a smiley mouth. Add the face onto the end of the caterpillar.
Attach The 2 chocolate matchsticks for antennae. Then add chocolate chips for caterpillar feet!
You can place the caterpillar onto a cake board (which can be decorated using ready to roll icing) and add some flowers for a perfect finishing touch to your birthday cake!
How to Make This Recipe
This video feature is not available with your current cookie settings.
You can update your privacy settings to enable this content. Please enable all cookies to use this feature.
Made with these Betty Crocker ™ products