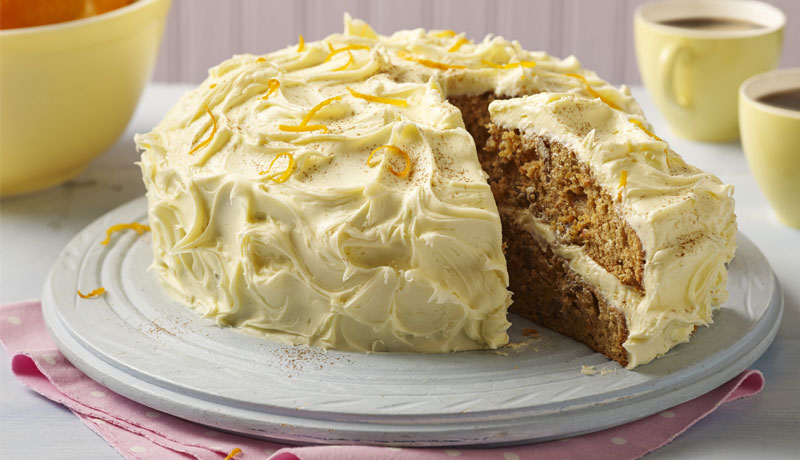 This easy and moist carrot cake recipe is simply delicious with chopped pecans and hints of orange and cinnamon for a tasty teatime treat with friends.
---
All You Need Is ...
Cake
1 box Betty Crocker™ Country Carrot Cake Mix

105 ml vegetable oil

200 ml water

3 medium free range eggs

1 teapsoon ground cinnamon

zest of 1 orange

100 g pecans, chopped
Topping and Filling
1 ½ tubs Betty Crocker™ Cream Cheese Style Icing

½ teapsoon ground cinnamon

Zest of ½ orange
Betty's Easy Steps
Preheat your oven to 180°C (160°C for fan assisted ovens) / Gas Mark 4.
Mix the eggs, oil, water and Carrot Cake Mix gently together and whisk (by hand or electric mixer) for 2-3 minutes until smooth and creamy. Then fold through the cinnamon, orange zest and pecans.
Pour the mixture evenly into your two greased cake tins.
Bake in the centre of the oven for 23-28 minutes, or until a skewer inserted into the centre of the cake comes out clean, then cool on a wire rack.
Ice one cake with ½ tub of Cream Cheese Style Icing then sandwich together with the other half cake. Cover the outside of the cake with the remaining icing. Using the palette knife gently create swirls on the top and sides (gently press the palette knife into the icing and bring the knife round in a curve and a flick to create the swirl).
Dust the top with cinnamon and the orange zest.
Made with these Betty Crocker ™ products