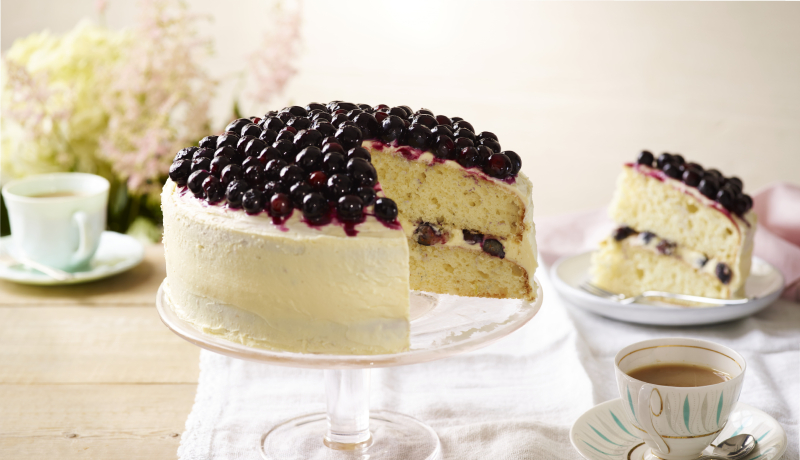 Blueberry Lemon Cake
Total Time: 2 Hours 20 Minutes
A tangy lemon-flavoured cake filled with vanilla buttercream and topped with fresh blueberries in syrup – it's the perfect combo!
---
All You Need Is ...
Cake
1 box Betty Crocker™ Velvety Vanilla Cake Mix

90ml vegetable oil

180ml water

3 medium free range eggs

Zest of 1 lemon
Filling and Topping
2 teaspoons arrowroot

50ml plus 1 tablespoon water

25g caster sugar

300g fresh blueberries

1 1/2 tubs Betty Crocker™ Vanilla Buttercream Style Icing
Betty's Easy Steps
Preheat oven to 180°C (160°C for fan assisted ovens)/Gas Mark 4. Lightly grease 2 x 20cm round sandwich tins and line the bases with baking parchment.
Mix the cake mix, oil, water and eggs together gently in a large bowl and whisk (by hand or electric mixer) for 2-3 minutes, until smooth and cream. Fold in the lemon zest. Divide between the prepared tins and gently level the surface.
Bake for 25-30 minutes until risen and golden and a skewer inserted into the centre of each cake comes out clean. Cool in the tins for 5 minutes then turn out onto a wire rack and leave to cool completely.
To make the blueberry topping, mix arrowroot and 1 tablespoon water together in a small bowl; set aside. Heat the sugar and 50ml water in a medium saucepan until the sugar dissolves. Add the blueberries and simmer for 1 minute. Stir in the arrowroot mixture and simmer, stirring for 1 minute until thickened. Leave to cool completely.
Using a palette knife, spread some of the icing over the top of one cold cake and spoon over 4 tablespoons of the blueberries. Place the second cake on top, pressing down gently. Spread a thin layer of some of the remaining icing around the sides of the cake to seal in the crumbs. Chill for 30 minutes.
Spread the rest of the icing around the sides and top of the cake. Spoon the remaining blueberries on top – don't worry if some of the syrup drips down the side of the cake. Slice to serve.
Betty's Tips
Store this cake in the refrigerator for up to 3 days. Allow to stand at room temperature for about 30 minutes before serving.
If you are making this cake in advance then only top with the blueberries and syrup just before serving.
Made with these Betty Crocker ™ products